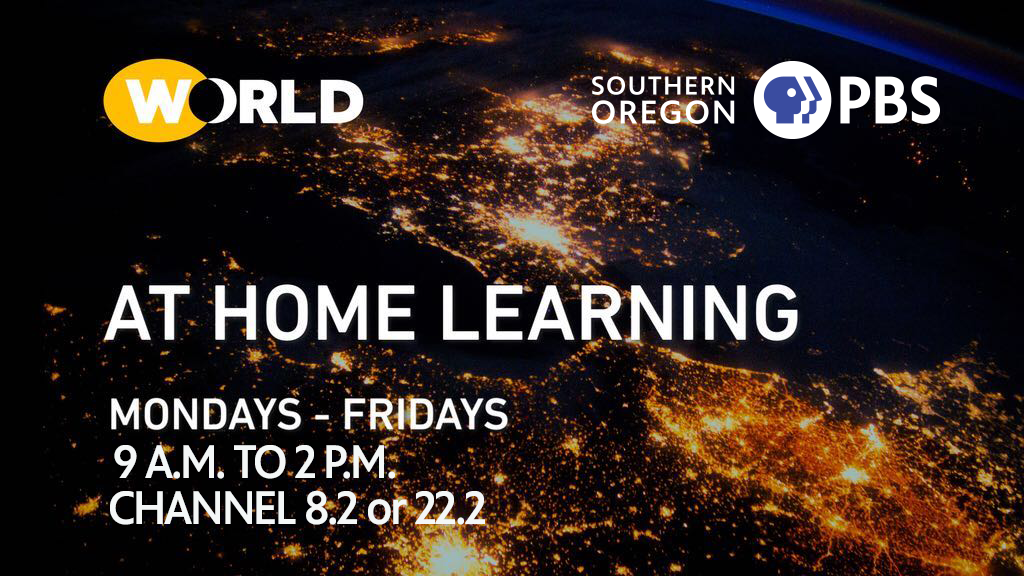 At Home Learning on SO PBS WORLD
Responding to the need for educational resources for students as schools close due to the coronavirus, Southern Oregon PBS WORLD Channel (8.2 or 22.2), in partnership with PBS LearningMedia, is broadcasting At Home Learning programs for grades 6-12 from Monday – Friday at 9 a.m. to 2 p.m. These daily free-over-the-air broadcasts will feature the best in public media science, history and other educational programming. The programs broadcast on the channel all have accompanying lesson plans the cover a range of grades and subjects.
WORLD will air documentaries and other educational programs. All of the programs aired in this block have accompanying assignments and activies on PBS LearningMedia. The activities on PBS LearningMedia cover a range of grades and topics, allowing for flexibility for teachers assisting in the at home learning process.
SO PBS At Home Learning Schedules (Schedules posted as soon as they are available):
These schedules will download as an Excel file to preserve hyperlinks.
Southern Oregon PBSWORLD Channel is broadcast over-the-air on channel 8.2 (Klamath Falls in 22.2), and carried across Southern Oregon on these services: Charter/Spectrum Channel 192, and Ashland Home Net 8.2.