Inspirational stories of how PBS has changed lives, impacted our region, and brought us all together.
Generations of Giving Back
How local author Ron Chaddock, William Shakespeare, and Jim Henson all connect to contribute to public media in Southern Oregon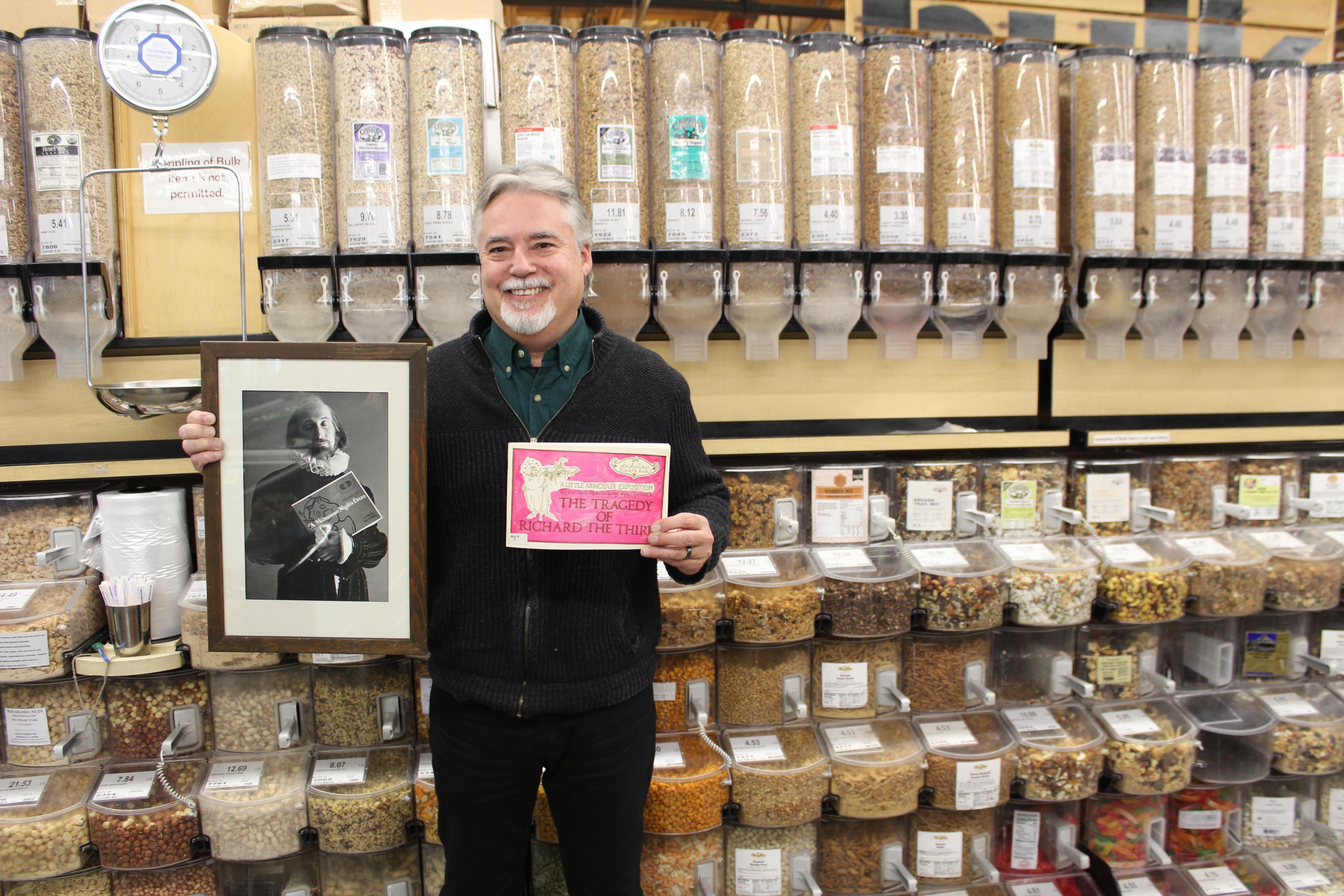 Shop'n Kart, a locally-owned, independent grocery store in Ashland, has been a long-time business partner and supporter of Southern Oregon PBS. It's store director, Eric Chaddock, has been a lifelong watcher of the network and he believes supporting PBS is important on many levels.
"For me, PBS is a gateway to knowledge that fulfills our curiosity at all ages. PBS develops a love of learning and stimulates the mind. These things are important for all people to have access to," said Eric. "And PBS, with Sesame Street and many other programs, is such an incredible tool that starts out as entertainment for younger minds. It captures their imagination and feeds their knowledge."
Chaddock's love for PBS, as well as for arts and culture, was almost unavoidable. When he was a child growing up in Ashland in the 1970s, Eric was introduced to the arts, with one Bard in particular, at a young age. In addition to being an artist and educator, Eric's father, Ron Chaddock, was a enthusiastic admirer of William Shakespeare, and Eric got plenty of exposure to the beloved playwright in his youth.
"My father was always a fan of Shakespeare; we often attended plays in town at Oregon Shakespeare Festival and it was a big part of our family life," said Eric.
Ron Chaddock's devotion was such that he wrote & illustrated a series of books aimed at middle schoolers that retold Shakespeare's classic tales in a more accessible format. Chaddock wrote and published these books because he wanted to inspire children the way Shakespeare had inspired him.
"My dad was doing his part to stimulate the minds of the youth, and to spark their imaginations while continuing their search for knowledge," said Eric. "It's an incredible thing for people to learn Shakespeare. It can develop an interest in theatre or an interest in views of mankind. The stories are timeless."
Publishing the books was a labor of love for Chaddock Sr., not done for notoriety or fame, though they quickly gained much acclaim. Screen actor Meredith Burgess likened Chaddock Sr. to a "hip successor to Charles Lamb," and playwright Robert Adleman called the series "a first-class piece of work." But the biggest testimonial of all came from someone near and dear to the hearts of many Americans.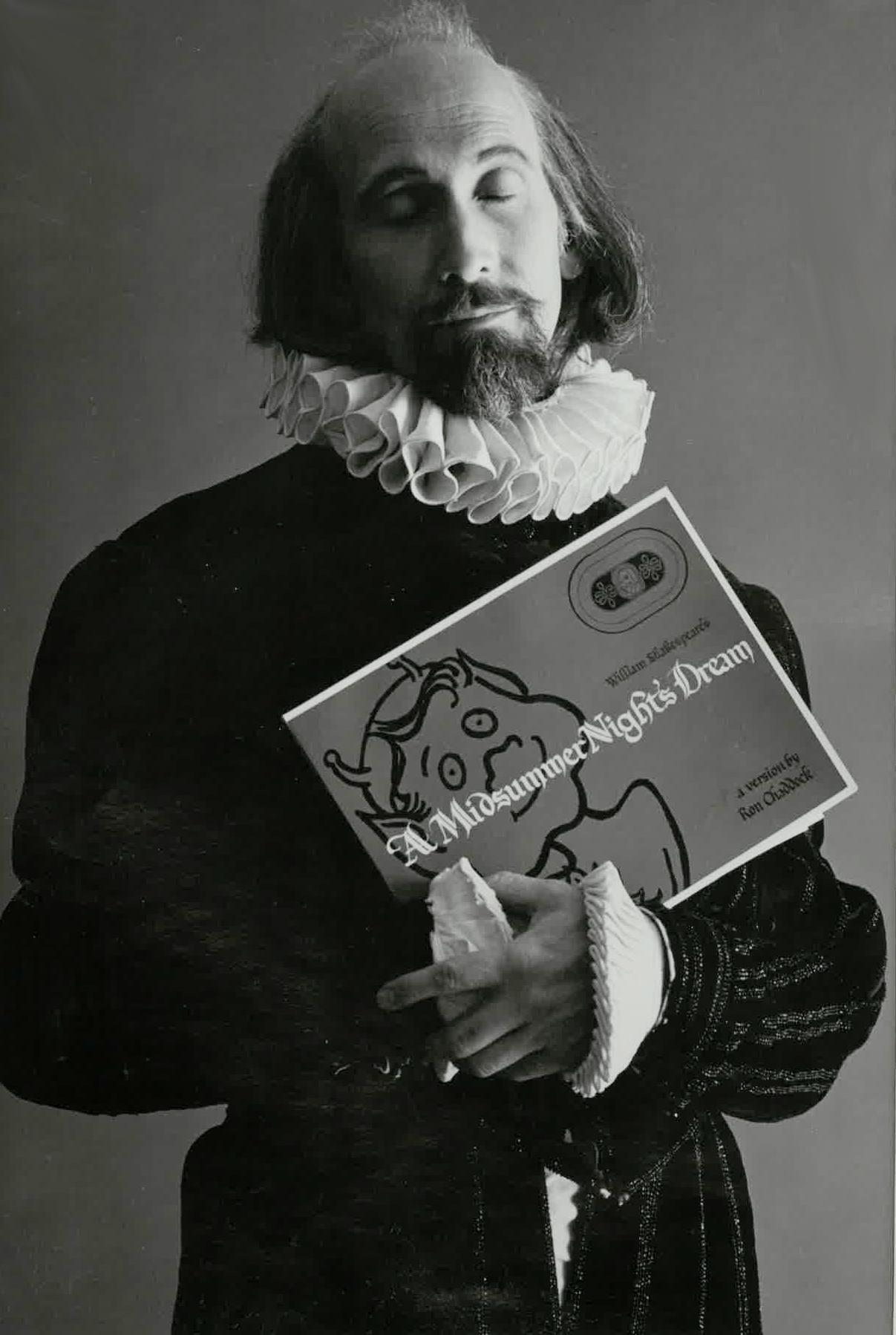 Shortly after the books were published, entertainment legend Jim Henson posed in a photoshoot dressed as Shakespeare with a collection of Chaddock Sr.'s books.
"My dad was honored and amazed that Jim Henson did a photoshoot with his books," said Eric. "I thought it was an incredible and great endorsement of getting Shakespeare's work in the hands of younger readers. Both Jim and my father shared the importance of that vision."
At the time the photo was taken, Henson was directing, writing and acting on "Sesame Street," a television program that excites children about learning while preparing them for school. This program used relatable characters & storytelling to communicate big lessons to young minds, a similar to the objective to that of Chaddock Sr.'s books. Popular from its infancy, Sesame Street recently celebrated its 50th anniversary, and Henson's work on the series undeniably made significant impact on the development of the program. His beloved characters—which include amongst others Kermit the Frog, Cookie Monster and Oscar the Grouch, are still beloved icons that now hold places in many people's earliest memories. So impactful was Henson's work, he was hailed by PBS as "the spark that ignited our fledgling broadcast service."
"Sesame Street now hitting its 50 year anniversary is a true testament to how important and ingrained it is and has been in our culture," said Eric. "With culture, trend and media changing over the years , I would have assumed Sesame Street would have fallen by the wayside. It is exciting to see that it has not."
Eric Chaddock is continuing his father's legacy, placing high priority on lifelong learning. To him, being a business sponsor of PBS aligns with the mission of his store.
"The store's eclectic mix of customers are extremely diversified, as is our community. I think PBS is a perfect marriage for that cultural diversity and thought diversity," said Eric. "I am proud to say my customers watch PBS. Not because I am advertising on it, because they are forward thinking individuals."