Inspirational stories of how PBS has changed lives, impacted our region, and brought us all together.
Reporter and humanitarian Julie Akins has worked with Southern Oregon PBS for many years. From hosting episodes of "Local Focus" to producing the mini-series "Southern Oregon Responds," our community has a trusted voice in this inspiring reporter.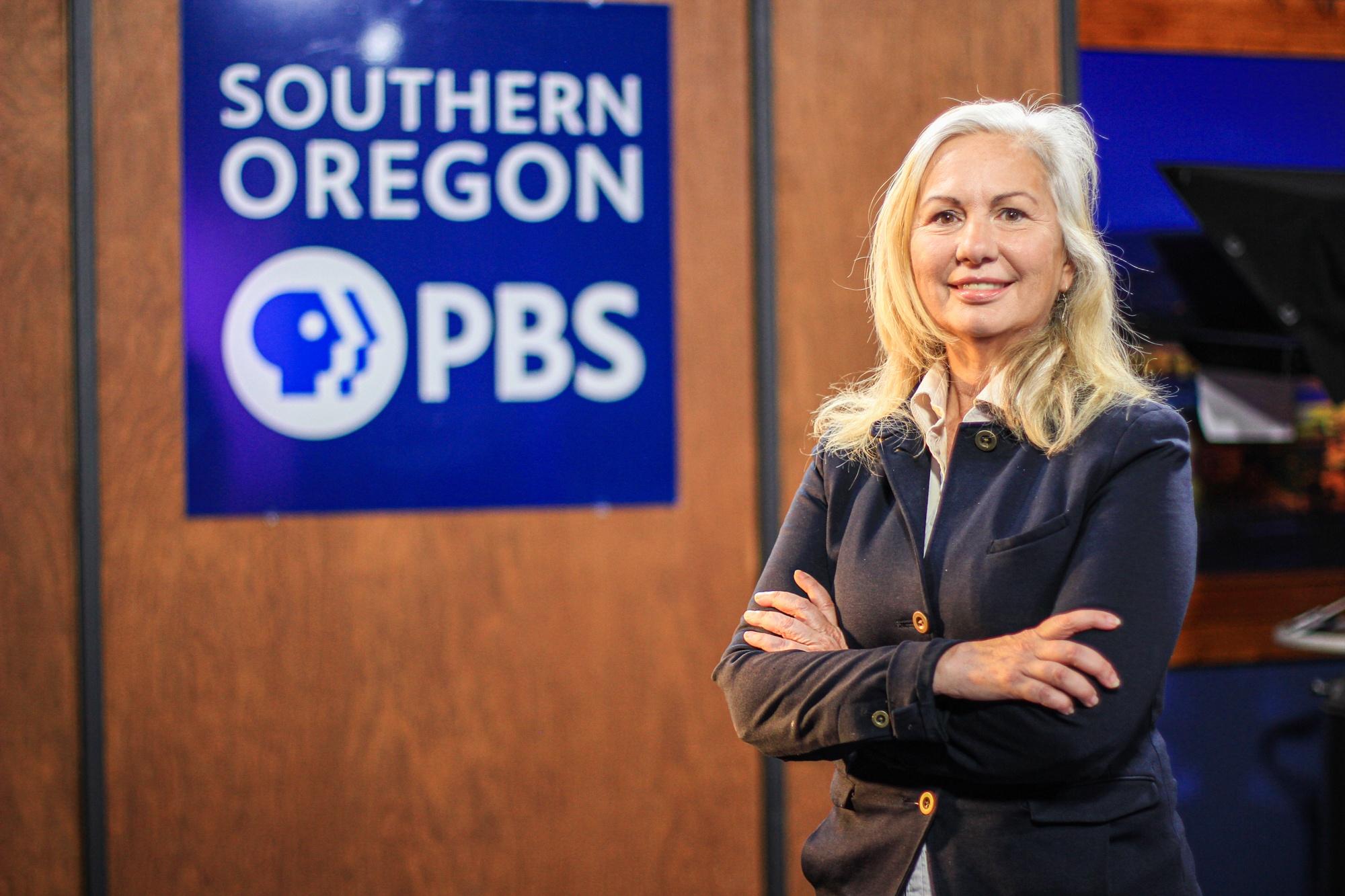 Avid viewers of Southern Oregon PBS are likely familiar with this month's Our PBS Community feature.
Julie Akins is no stranger to Southern Oregon PBS. She has worked with the station for several years, hosting programs and even interviewing international documentarian and PBS Rockstar, Ken Burns. Beyond the local community, Akins' attention to nuance and social issues has also made a name for herself on a much larger stage. Julie is a tireless human rights advocate and reporter, who has focused in the last several years on issues facing the homeless population. She is the founder of a non-profit organization that works to provide housing for those in need by refurbishing school buses. Through this work, she has been featured by People magazine, and was a guest on the national television program, The Kelly Clarkson Show.
More recently, Akins has partnered with Southern Oregon PBS to bring the community the short video series, "Southern Oregon Responds." With this series, Akins is finding local examples of people in our community doing extraordinary things to help others during the COVID-19 pandemic.
"Since Southern Oregon Responds started airing, the response from the community has been amazing. I am getting messages daily from people wanting to share great local stories," said Akins in a recent interview.
The positive impact of Southern Oregon Responds has even echoed out of the community.
"I got contacted by a nationally-distributed, locally-based alcohol company who saw the first story and it changed the way they operate. They saw the stories and realized they wanted to do more as well. They have since changed up their operations and are making hand sanitizer to give away for free," said Akins. "That is the power of PBS. It brings people together and inspires them to be better. That is the kind of stuff that is really and truly happening."
Even before she began working with Southern Oregon PBS, PBS has been a constant in Akins' life. Growing up on a farm outside of Seattle, Akins says PBS provided a look at a world that she would have never had access to.
"I remember as a young girl, watching the ballets and symphonies on Great Performances. I was a poor kid who grew up on a farm. Seattle was an hour and a half drive. I didn't have access to the arts in my regular life, but I could watch them on PBS and dream," Akins recollects. "Now I get to see those things live. But it was PBS that introduced me to them."
Beyond the arts, PBS also helped to plant the early seeds for Akins' journalism career.
"I grew up in the Vietnam and Watergate era. I was always fascinated by journalism and news and truthful storytelling. I came from a blue-collar family, but we valued those qualities. We would watch PBS together as a family and discuss what we had seen. My father would get such a kick out of the questions I would ask. We would have conversations comparing how we got our information and I learned how to watch objectively."
This dedication to the truth and captivating story telling has created untold influence on the community and the nation. Akins has worked as an investigative reporter for television stations in Seattle, Tampa, Baltimore and San Francisco. She has used her experience to train the next generation of reporters, teaching journalism courses at Emerson College in Boston and here locally at Southern Oregon University. Her work has been seen on CNN, NBC, Huffington Post, and other national syndicates.
After accumulating a resume like that, some would consider a small station like Southern Oregon PBS to be beneath them. Luckily for our community, this is not the case for Akins.
"PBS is important for the community because it has a steady and calm hand. PBS NewsHour, at this point, I believe is the most trusted news source on TV or online. It engages the best parts of ourselves that are lost in a haze of fear and panic and divisive policies. It is there steadfastly bringing us to our better selves."
"SO PBS does locally what PBS does nationally," Akins continued. "It is a mirror of our local community so we can see what's best about us. Without Southern Oregon PBS, we would have no idea about these great stories that are getting covered in "Southern Oregon Responds." Since the show debuted, people have been stopping me and wanting to tell me how much they appreciate that SO PBS is here to reflect the good stories of our community. It is proof positive of the importance of having a local PBS affiliate."
The staff at Southern Oregon PBS are thrilled to work with Akins. As Production Manager Jeff LeBeau said, "SO PBS is very fortunate to work with Julie. Her unique work benefits the community in many ways. Not only is she an outstanding reporter, always practicing the tenants of professional journalism, but Julie is a truly caring individual that is interested in getting to know everyone regardless of who they are or where they are in life. And, of course, the icing on the cake is she is a joy to work with."
Akins' considers her work at the station to be noteworthy, even considering one interview she did for the station amongst her best memories.
"I have been lucky to have a pretty fun life, and the Ken Burns interview was one of my favorite projects. It was so much fun going up to Portland with the SO PBS team for that interview. I was so nervous meeting him: I am a little documentary film maker and he is a major one. It was such a highlight. Doing it with my friends from PBS made it perfection."