Pushing the Boundaries All By Himself
Adventurist and filmmaker Norton Smith has made a name for himself by pushing the limits of what humans can accomplish, most recently heading into the Canadian arctic for a 55-day solo journey upriver.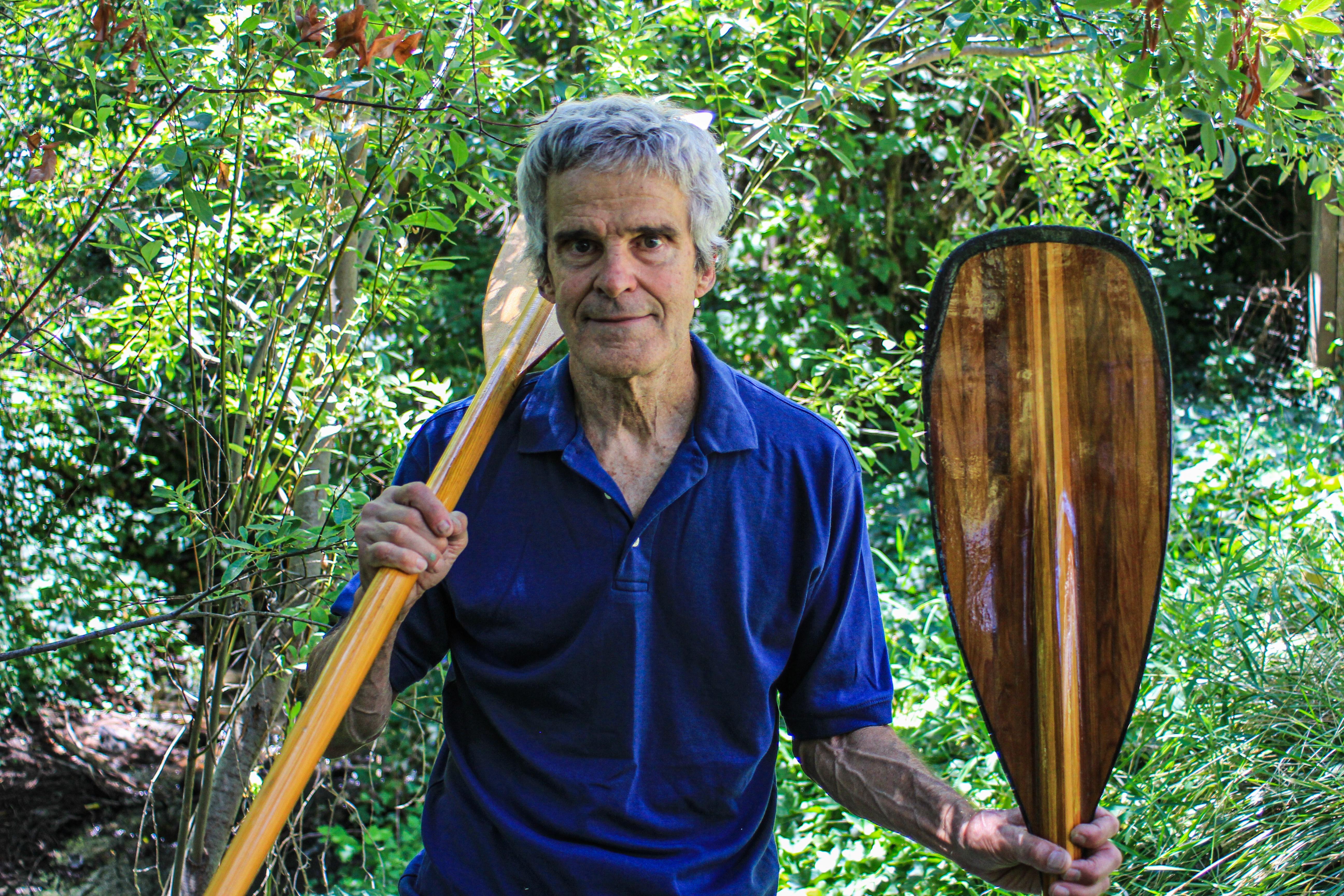 Norton Smith of Talent, Oregon, sits in the SO PBS studio to shoot promotional spots prior to the debut of his documentary "Toward the Source." Norton is a soft-spoken person, carefully considering his words before speaking. During this time of COVID-19, he is isolated for his interview, only two production people there in what would normally be a bustling studio. But being isolated and alone is not new to Smith. In fact, solitude is something he has spent large portions of his life seeking out and learning from.
"I guess I have always been intrigued by solo adventures. As a child, I wasn't interested in cowboys and Indians or things like that. I wanted my father to read me stories about sailing."
A biography about Joshua Slocum documenting the first solo trip around the globe particularly caught young Smith's interest. Slocum circumnavigated the world in a boat he built himself back in the 1890s and Smith found himself drawn to that adventure. Years later, when Smith was a teenager, his family also had a house on Cape Cod, near the harbor where the racing yawl Francis Chichester used to sail by himself across the ocean in the first trans-Atlantic race was kept.
These solo pioneers made an undeniable impact on Smith. As a young adult, when he heard about a group called "The Singlehanded Sailing Association" organizing the first solo race from San Francisco to Hawaii, Smith knew he wanted to participate.
"When I heard about that race, I thought that was perfect for me. It gave me the chance to use all the skills I had accumulated over the years: from meteorology to fixing mechanical devices, plus, of course, the sailing experience."
Smith entered the race, but he quickly learned that solo expeditions are not for the weak of heart. The race went from San Francisco to Kuaii, and Smith set out in a Santa Cruz 27.
"I set out on that race with a lot of preparation. I thought I had it all together," remembers Smith. "Of course, in the first three days, everything broke down."
The various problems that Smith faced on his first, major solo journey would have had most people turning around and calling it day. While many people might dream of crossing the ocean or venturing into unexplored territory, few dream of doing these incredible feats solo. Smith, on the other hand, has continued to seek new levels of solo adventuring.
"I think solo journeys, for me, began because in my sailing career, one of the most difficult parts was always finding a crew, training them, and organizing them," said Smith. "But also there was a deeper sense of just enjoying being alone. One of the things that I deliberately chose to do in my solo journeys is making a priority of relating to the wild, to the country, to the rocks, to the animals, rather than to other people. When I go on camping trips with other people, we sit around the campfire and do what people do: talk. When I am alone, I lie there and watch the stars or listen to the birds. I have found that to be rewarding in a way that I cannot get if I am with other people."
Toward the Source
This attitude is what has led Smith to the remarkable journey he documented in his new film. In the film, titled "Toward the Source," Smith takes a solo canoe journey up the Yellowknife River into the arctic. Spanning over 55 days, Smith packed food, survival gear and camera equipment more than 100 miles upriver while shooting this film, completely by himself. The film covers the national beauty he was immersed in, as well as the spiritual connections he made on this journey.
The journey that Smith took for this film was nothing short of remarkable at every turn. Journeying upriver. Venturing into a place he had never been, a place he was unlikely to see another human. No supply drops were planned. No back up plans were made. No help with paddling. Just Norton, his canoe, and some outdoor equipment.
And add to that another 20+ pounds of camera equipment.
Smith's journey was not a simple paddle up a single river, from Point A to Point B. Upon beginning his journey, Smith didn't necessarily have a clear path planned. While he knew where he wanted to end up, there were many factors influencing his path. There were dozens of places he had to get out of the canoe due to impassable water, and portage all of his equipment upriver to somewhere more suitable for canoes. With all of his extra camera equipment, each portage required four back and forth trips. So with every one mile portage, Smith actually walked eight miles while transporting equipment.
Smith's exact journey was unclear for other reasons. The inspiration for this specific trek came to Smith from reading the journals of Sir John Franklin, a British explorer taxed with charting the north coast of Canada in 1819. Franklin's mission was not romanticized in his journal and was exceptionally difficult, with nearly half of his crew succumbing to the elements while on the mission.
Smith's decision to follow the journal of Sir John Franklin meant extra difficulties in his own journey. There was no clear trail or even a single river. The territory and climate had changed in the 200 years since Franklin made his trek, adding extra elements of uncertainties to Smith's journey.
Smith knew this would not be easy going, and still, in the late summer of 2016, he set out into the wilderness. Considering all of this, the fact that Smith took the time to document this trip, using beautiful camera shots and thoughtful insight, makes this film a gift.
"In previous solo trips, I'd kept a journal and took a lot of pictures. I had published some of those on my website and got a very favorable reaction," said Smith. "It seemed like it was both an inspiration and a pleasure for people to see that and to follow along vicariously. I wanted to do something that gave a more realistic picture of what these solo journeys were like."
Smith certainly accomplished this aim. "Toward the Source" has been honored at several film festivals, including winning the Jury Grand Prize- Southern Feature Film at the Klamath Independent Film Festival. Norton's cinematography, storytelling, and adventurous spirit come together for a truly remarkable film.
As to Norton's next project?
"I am drawn to exploring places. I am very curious. I want to see what's over the next horizon. And that was always the lure of sailing: to see what's out there."
Production Stills from "Toward the Source"