A Catastrophe & Its Heroes
For longtime Oregonians, it's something they never forgot. For new Oregonians, it's a fascinating slice of history. This film is stirring up a lot of memories.

Narrated by longtime ABC national correspondent, Barry Serafin, a Roseburg teenager at the time, Roseburg Blast chronicles one of the worst disasters in the history of small-town America. "The Blast" took place in Roseburg, Oregon on August 7th, 1959, a few hours after a delivery truck, loaded with six-and-a-half tons of dynamite and a blasting agent, drove into the city core and parked. At 1:14 a.m., a small fire broke out nearby and within minutes the truck itself exploded.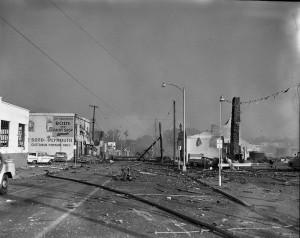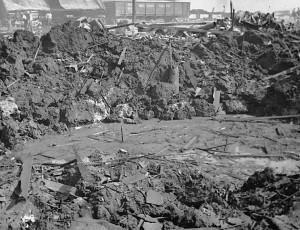 In a scenario all too familiar to anyone recalling the events of September 11th, 2001, rescue workers rushed to the scene to respond to the original fire only to be the first casualties of the explosion itself. When the firestorm was finally controlled, 13 people were dead and 125 injured.
Out of this catastrophe came heroes, ordinary people who gave everything they had, sometimes even their lives, to save the lives of family and friends, and to save their home town.
Awards
Roseburg Blast editor and producer, Victor Dailey, Production Manager at Southern Oregon Public Television, received the 2005 Videographer Award of Excellence for this film. He also accepted the Society for Professional Journalism's Northwest Excellence in Journalism Award for SOPTV staff at a ceremony on Saturday, May 21, 2005 in Lake Oswego, Oregon.
Premiere
The premiere screening of ROSEBURG BLAST: A Catastrophe and Its Heroes took place at the Douglas County Museum in Roseburg, Oregon on Saturday, August 6th, 2005. Over 300 people came to three showings of the film.
Credits
Executive Producer: Greg Frederick
Producer/Editor: Victor Dailey
Writer: John Darling
Narrator: Barry Serafin
Graphic Design/Publicity: Susan Ekstrom
1 DVD: UNABRIDGED
28 MINUTES
To order the DVD, call 541-779-0808 x 241
$19.95 + $5 Shipping & Handling
A production of Southern Oregon Public Television
Copyright 2004
All rights reserved